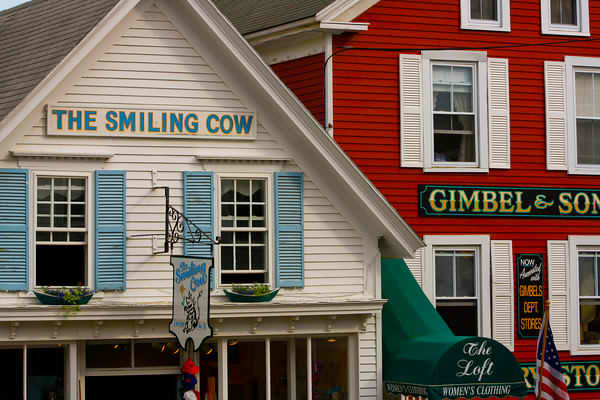 The Smiling Cow and Gimbel & Sons
Boothbay is home to a number of unique shops (no chains stores here!) and art galleries. Some of my favorite shops are:
The Smiling Cow (14 Commercial St.): While you have to sift through a bit of junk to find the pearls, the Smiling Cow was my favorite shop when I was three years old and I still won't visit Boothbay without dropping in—I always manage to find something to buy! It's a great spot to pick up toys for the kids. Be sure to visit Gimbel & Sons Country Store, attached to the Smiling Cow, for more gifts and clothing.
The Creative Turtle (11 Granary Way): Just across the way is this inviting gallery and gift shop owned and operated by artists Pam and Anita who specialize in painting and jewelry, respectively. Dogs are welcome! Be sure to mention that you are staying at Back Bay Cottage.
The Mung Bean (37 Townsend Ave): Another friendly neighbor, the Mung Bean houses several rooms of Maine and American handcrafts. Do mention that you are staying next door at Back Bay Cottage.
The Village Store (34 Townsend Ave): Wind your way through 7 rooms of home goods and other gifts.
The Boothbay Region Art Foundation [http://www.boothbayartists.org/dir.html] website lists galleries and studios in the region. Their gallery is located at 1 Townsend Ave in the heart of downtown and serves as a gallery for up-and-coming artists. See also a map of studios & art galleries.
Footbridge Gifts (8 Bridge St.) has a great collection of local gifts, home decorations and food products, many at very reasonable prices.
Sadie Green's (23-25 Townsend Ave.). Sadie Green's has home goods and clothing and a whole lot more, but I am a particular fan of their fun jewelry.
The Palabra Shop

(53 Commercial St.

) Wind your way through 10 rooms full of locally-crafted gifts and antiques in this friendly shop that will soon celebrate its 50th anniversary.
Sherman's (5 Commercial St.) A trip to Boothbay is never complete without a (daily) visit to Sherman's, to pick up the morning paper, sift through the books on the upper level, or buy a gift to bring back home.
Friends of the Library Used Bookstore (McKown St., behind the Memorial Library, (207) 633-3112).
There are a handful of antiques shops in Boothbay, although for more avid antiques collectors, you should be sure to visit the shops in Wiscasset.