Restaurants and Coffee Shops
Here are some of my favorite restaurants in the area (all are in Boothbay Harbor unless otherwise noted). If you're looking for slightly more gourmet cuisine, your best options are Thistle Inn, Ports of Italy, Boathouse Bistro, Fisherman's and the Newagen Seaside Inn.
My very favorites:
The Thistle Inn (55 Oak St.). Also open year-round, the Thistle Inn offers a cozy Old English-style pub for the chillier days and a pleasant shaded terrace for warmer summer days, with some of the finest food in the area. Currently my #1 favorite restaurant in town.
Harborside Tavern offers some of the best food around, in season. And it's a stone's throw away from home. I love their salmon and haddock mains, but the bar menu is an exceptionally good deal--the fish tacos and poutine are fantastic.
McSeagulls (14 Wharf St.). With an extensive menu, it's hard not to find something you like! Nonetheless, I just keep going back to the traditional McSeagulls Hot Lobster Roll….McSeagulls also has a bar and is open 7 days a week, all year round.
Brady's (25 Union St.) is the newest restaurant in town, at the head of the harbor. Very friendly, great pub food as well as lobster and other mains and flatbreads. They have a spacious and newly renovated interior though I can't wait to try out the deck in the summer. Open year round.
The Boathouse Bistro (12 The By Way). An interesting mix of local seafood, tapas and more traditional fare makes for innovative cuisine and something a bit different amongst a host of lobster pounds. The 3rd floor open air deck offers a wonderful view of the Harbor in the summer. There's no better place to be on a warm evening. I highly recommend the cheese platter and their signature blueberry sangria, as well as the haddock sandwich on flatbread. Open year-round!
Ports of Italy (47 Commercial St.). Fine northern Italian cuisine in a somewhat upscale ambience, Ports of Italy serves a variety of dishes with fresh ingredients and local seafood. I love their caprese salad in a parmesan cheese bowl.
Robinson's Wharf (20 Hendricks Hill Rd., Southport, ME 04576). Robinson's is in a picturesque spot overlooking Townsend Gut, which separates Boothbay Harbor from Southport Island, making it the only place on this list that is not a 5 or 10-minute walk from the cottage. Still, it's only a 10-minute drive if the drawbridge isn't up. Robinson's has an array of freshly caught seafood and recently switched to sit-down only service. Robinson's is now open year round . You can enjoy live music upstairs by the bar on most Friday evenings.
Mama D's (50 Union St., Tel. (207) 633-3464). A friendly coffee shop with breakfast and lunch service, Mama D's is full of character. Open year round. Don't miss the blueberry cake!
Blue Moon Cafe (54 Commercial Street, Tel. 207-633-2220) is an adorable waterfront cafe serving breakfast and lunch daily and now happy hour on Fridays and Saturdays. They also offer packed lunches to go if you're planning a picnic. I love their breakfast burrito.
Red Cup Coffeehouse is a friendly coffee shop that also serves food, wine and beer. It's located right in the center of the Harbor (29 Commercial St.)
Waves is at 43 Commercial St. where the old Ebbtide used to be. For Ebbtide fans, you'll be happy to know that the traditional booths are still there and Waves is an excellent spot for breakfast or lunch (they don't serve dinner). Portions are large and the service friendly.
Fisherman's Wharf is not your usual hotel restaurant. The menu is much more creative (yet slightly less expensive than some others) and the chef has won several awards. They have a good selection of Maine microbrews and of course a waterside dining room and outdoor seating as well. Everything on the menu looked intriguing; I had the Salmon Wellington and it was delicious (though way too big of a portion!) The chowder was also excellent.
Boothbay Craft Brewery is just past Boothbay center off Route 27. The atmosphere is cozy and delightful and while they have cut back on food offerings, you can still get something to nibble on with your beer. The beers are great and as local as you can get!
Capers. deli is now around the corner on Townsend Avenue. They make everything from scratch: sandwiches, salads, desserts, etc. They do catering as well, and one half of the store is devoted to selling beer, wine and other more gourmet products. There are several tables for a pleasant eat-in experience, or you can order a picnic lunch to go.
Bridge Street Cafe (4 Bridge Street, Tel. (207) 633-7447)) Just a hop, skip and a jump from the cottage, this sunny cafe is a good stop for all your blueberry needs, especially breakfast foods.
For waffles and ice cream, you must try Wannawaf (31 Granary Way) and go with a very empty stomach! "The Good Apple" waffle (basically a huge apple pie) is amazing. The portions are just insane.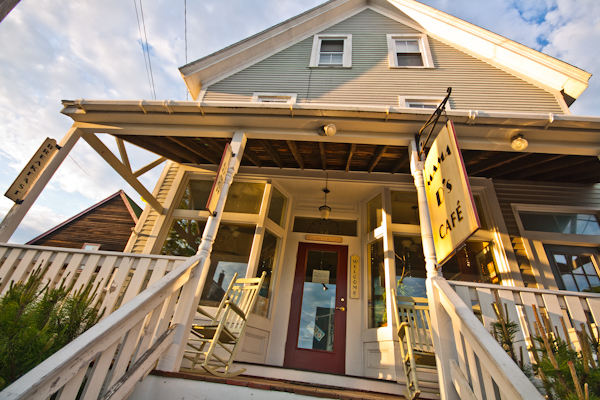 Mama D's Cafe
Honorable mentions:
Bet's Fish Fry (Route 27 at Boothbay Common, in Boothbay Center). Bet only serves fish n' chips, but the best fish n' chips you'll ever try! Eat at the picnic tables there, or bring your dinner back to the cottage and enjoy it on the deck.
Shannon's Unshelled (11 Granary Way). For excellent lobster rolls a stone's throw from the cottage, on our very own Granary Way.
If you are in East Boothbay, try Lobsterman's Wharf (224 Ocean Point Road/Route 96) right on the Damariscotta River (it's best when you can take advantage of the waterside terrace), or the Carriage House on the Ocean Point Road, which offers both pub and fancier fare (open year-round). The upstairs bar area is especially nice.
Brown's Wharf Inn (121 Atlantic Ave) Brown's has seafood but also a good turkey dinner on Thursdays and Sundays (check the days to be sure in case they have changed!)
Dunton's Dog House (Sea Street, Tel. (207) 633-4700) is an institution. This small shack with outdoor picnic tables sells foot-long hot dogs but also an array of delicious seafood. It may be greasy, but it's good!
Baker's Way (89 Townsend Ave) is an excellent spot for a budget breakfast (their old fashioned/plain donuts and chocolate glazed donuts are wonderful) or for a quick or takeout Vietnamese curry lunch. While the inside is rather drab, they just re-landscaped a beautiful patio seating area outback.
The Newagen Seaside Inn at the tip of Southport Island has a fantastic farm to table restaurant with slightly pricier but exquisite dishes made with locally grown ingredients.
The Linekin Bay Resort was renovated and recently reopened. They have a wonderful waterside setting and large deck that are great if you're craving a quiet afternoon or evening. No promises, but if you bring your swimsuit and a towel, they may even let diners use the pool that's intended for overnight guests. See my friend Karen Watterson's review for Eat Maine for more details on the dining experience.
Bogie's at the Spruce Point Inn is the more casual of Spruce Point's indoor restaurants (they also have a lunchtime only outdoor grill). It's a spacious and welcoming setting and the food is top notch.
Mine Oyster has great sushi and a fantastic view from the outdoor deck (bar stool seating only).
And there are still others! A few months ago, I counted nine restaurants or cafes within easy walking distance that are open in the winter and over thirty in the summer! The Chamber of Commerce website lists almost all the local restaurants, coffee shops, markets and more and gives contact details for each. When visiting the cottage, you will also find a basket with menus from various local restaurants.
Clambakes
Cabbage Island Clambakes If you're visiting in the summer, do not miss this traditional clambake on Cabbage Island (however, I do recommend that you miss breakfast that day!) A boat picks you up in the Harbor and brings you on a tour around Spruce Point to the small Cabbage Island in Linekin Bay where you have some time to explore the island and stake out your picnic table (indoors if the weather turns foul) and prepare to eat 2 lobsters and steamers that are prepared in a bath of saltwater and seaweed on the water's edge, corn-on-the-cob, baked potato, blueberry cake and more. Be sure to reserve in advance at (207) 633-7200.
Bars
While Boothbay does not offer a lot in terms of nightlife, most of the local restaurants have bars and many are open late in the summers. If you're in the mood to hit a local watering hole, my top recommendations are:
The Thistle Inn (55 Oak St.) Who can pass up drinks at a bar that is actually an 18-foot dory that once sailed in Boothbay Harbor? Ten beers on tap is also a plus.
Brady's (25 Union St.) They have not one but two bars inside and a huge deck for warmer weather. Open year round.
The Boathouse Bistro (12 The By Way). The deck is a great spot for a warm evening. Check out the website for the bistro's entertainment calendar.
McSeagulls (14 Wharf St.) Open year-round and 7 days a week, the place to be for locals once the tourists go home at the end of the summer! They have a large outdoor deck in the nicer weather.
Of course in season, just about every restaurant in town offers a bar and most offer a bar menu as well!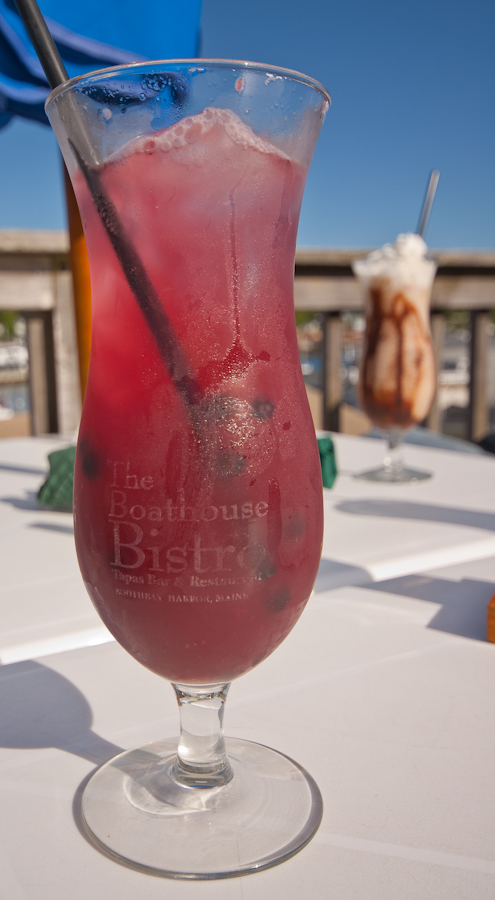 Blueberry sangria on the roofdeck at the Boathouse Bistro
Groceries
There are a number of options if you prefer to buy food and cook back at home:
Hannaford's: At 27 Townsend Ave (a 5-minute drive or 15-minute walk from the cottage), this is the only full-sized supermarket nearby. Open 7 days a week 7am-9pm or until 10pm in the summer.
The Village Market is now closed, but Gimbel's next door (14 Commercial St., only a 5-minute walk from the cottage) has started selling very basic groceries, toiletries, etc. in their downstairs section.
Eventide Specialties (5 Boothbay House Hill Rd) offers a range of specialty foods in addition to their broad range of olive oils, vinegars and wines. They also have a cheese and bakery section (and homemade soups!)
Pinkham's is now Pinkham's Gormet Market. They just opened a beautiful new shop in a new location just past the Y as you're headed out of town. In addition to fish, you can purchase most (high-end) grocery needs.
General Stores: There's a small shop right in the center of the Harbor with your basic necessities: Harbor General Store (12 Commercial St.) But don't leave the region without a stop at one (or several) of the traditional New England general stores. The East Boothbay General Store (255 Ocean Point Road, open 7 days a week from mid-May to mid-October), first opened in 1893, has had a facelift but it's still great for specialty foods offers gourmet sandwiches and pizza to eat there or to go. The website alone is worth a visit, with a slew of information on the history of East Boothbay and its boatbuilding. Also definitely worth a stop is the Trevett Country Store on Hodgdon Island (known especially for its lobster rolls!) and the Southport General Store. See Picnics, Parks & Picnic Supplies for complete directions to all three stores from the cottage. Most of these shops are open year-round.
On Thursday mornings in the summer, you can purchase locally-grown and locally-made products at the Boothbay Farmers' Market (9am - noon, mid-May to early October, rain or shine at the Boothbay Commons on Route 27).
The Chamber of Commerce site lists additional markets. You can also buy lobster, oysters and other seafood to take home at certain locations.
Special Treats
Orne's Candy Store (11 Commercial Street) has been making candy (most notably fudge) since 1885 and is definitely worth a visit. Orne's was even included in National Geographic's Food Journeys of a Lifetime.
Wannawaf (31 Granary Way) has delicious (though a bit too copious) ice creams and waffle specials. "The Good Apple" waffle (basically a huge apple pie) is amazing.
The Downeast Ice Cream Factory (1 By Way) serves more flavors than you could ever hope to try, including Maine specialties such as "blueberry cheesecake" and "moose tracks". Stick to one scoop unless ice cream is going to be your whole meal! This is my go-to place for an ice cream cone.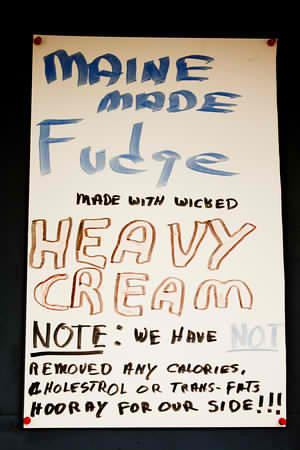 Orne's Candy Store
Picnics, Parks & Picnic Supplies
Our family has been coming to the Boothbay area for almost 100 years now, and those years have always included memorable picnics in perfect spots. We have left a big canvas bag with a picnic blanket and thermos in the cottage for your use. Here are our three favorite combinations (over four generations) of gorgeous sites with not-to-be-missed places to buy food right on the way.
Barter's Island & Porter Preserve
Head out Townsend Ave 1.8 miles to the monument in Boothbay center
Turn left in front of the monument and immediate left on Corey Road
Go 0.3 miles and turn right onto Barter's Island Road (follow the signs for the Botanical Garden, which you will pass).
You will come down a hill and cross a bridge to Knickerkane Island, a lovely park on the left which you reach from the parking lot over a little footbridge. This is a great place to picnic, but in 2011 the bridge is under construction, so save this for next year!
Continue on over to Hodgdon Island, and just before the drawbridge, turn right into the parking lot for the Trevett Country Store. Stock up on lobster rolls, subs and other goodies. Click here for one blogger's detailed account of "The Perfect Lobster Roll!"
Head off across the bridge to Barter's Island.
In about a half mile, turn left onto Kimballtown Road and follow the Porter Preserve signs for another half mile.
You will find the parking lot and trailhead near the old Kimball family cemetery
Follow the trail markers to one of the great outlooks on the Sheepscot River.
This is one of the Boothbay Regional Land Trust properties – we have trail guides to all the BRLT preserves at the cottage and we highly recommend them all. This, however, is our all-time favorite.
Southport & Hendricks Head Beach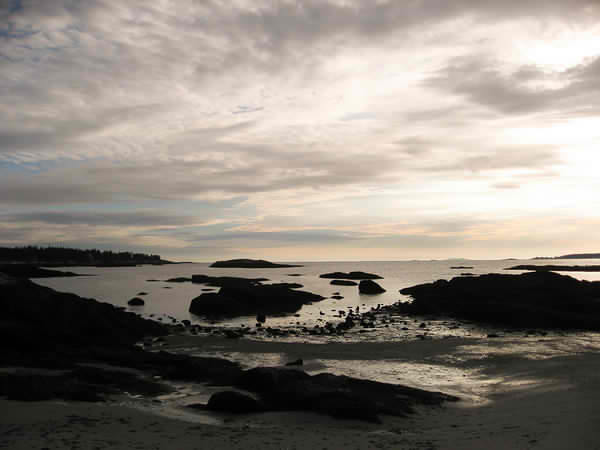 Hendricks Head Beach at sunset
Go right on Townsend Ave and take a left on Smith or Union Street up the hill and left again onto Oak Street to reverse direction.
Take the first right on West Street, following the hospital signs and the shoreline.
You will be on Route 27, and in about 2 miles you will cross the bridge over Townsend Gut onto Southport Island.
At the intersection by Robinson's Wharf (definitely come back there for seafood right on the water another time), stay straight on Route 27.
In 2 more miles, you will see a monument and the Southport General Store – stock up on food here.
From the store, go right and then immediate left on Beach Road.
Follow Beach Road for 0.4 miles to a parking area on the left.
You will see a sandy beach, with views of Hendricks Head Light nearby and Seguin Island, at the mouth of the Kennebec River, in the distance.
Enjoy your meal and the beach!
When you leave, you can continue to follow the road around a pretty 1-mile loop. Going uphill from the beach, it becomes Salt Pond Road. Turn right on Dogfish Head Road and you will see Ebenecook Harbor down below. The peaceful Union Cemetery is soon on your left and then you will be back at the general store. Left on Route 27 will bring you right back into Boothbay Harbor.
East Boothbay/Ocean Point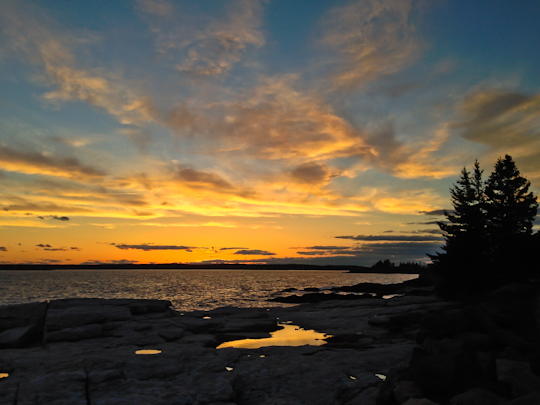 Ocean Point
Head out Townsend Ave for 0.3 miles and take a right on Eastern Avenue.
Go 0.5 miles to the Ocean Point Road/Route 96, turn right.
Drive 1.8 miles to the Mill Pond Overlook (on the right) over Linekin Bay – this is a nice picnic spot in itself.
Drive through East Boothbay, with the Damariscotta River on your left and go up the hill 0.2 miles to the East Boothbay General Store at the blinking light. The parking lot is just past the store on the right. The sandwiches here are wonderful and plentiful.
Leaving the store, continue on Route 96 for 3.3 miles to a parking lot on the left – look for it just when you see the water straight ahead – this is Grimes Cove at Ocean Point.
You can park here and head down to the shore trail on the left, or you can continue on the Ocean Point Road past the stone Wilson Chapel and look for designated parking spaces on the left.
Find your rock and watch the surf. You can see Ram Island Light and Fisherman's Island behind it, and beyond is Damariscove (owned by the Nature Conservancy), and around a few more bends you will see Negro Island close by.
Past the Ocean Point Inn, the road curves inland and circles back to Route 96. Take a right on Route 96 to make a nice walking loop and go back to your car, or left on Route 96 if you're driving and want to return to the cottage.
We heartily recommend timing this picnic trip to coincide with sunset – coming to Ocean Point then is a family tradition.
Three more picnic ideas:
Barrett Park (see Walks from your door) stopping at The Lobster Dock for take-out.
The Memorial Library lawn during the Thursday evening summer band concerts (7:30pm), with food from Oak Street Provisions, just up the hill, Baker's Way (89 Townsend Ave, (207) 633-1119), with its mix of authentic Vietnamese food, old-fashioned New England donuts, and French-style pastries and other baked goods, or Hannaford's at 27 Townsend Ave.
The Cabbage Island Clambakes – boat excursion and sumptuous food all in one – an experience you won't want to miss! Leave right from Boothbay Harbor, but be sure to make reservations: (207) 633-7200.