Off Season
Every year, more and more restaurants, shops and other Boothbay establishments are opening and staying open year-round.
Restaurants
Here are some of my favorite restaurants that are now open year-round (but check for last minute Covid-era schedule changes!):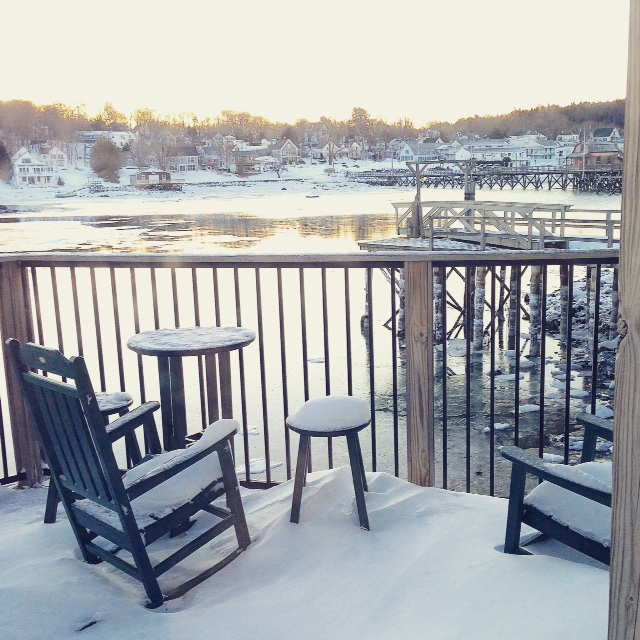 Robinson's Wharf (20 Hendricks Hill Rd., Southport, ME 04576). Robinson's is in a picturesque spot overlooking Townsend Gut, which separates Boothbay Harbor from Southport Island, making it the only place on this list that is not a 5 or 10-minute walk from the cottage. Still, it's only a 10-minute drive if the drawbridge isn't up. Robinson's has an array of freshly caught seafood and recently switched to sit-down only service. Robinson's is now open year round. You can enjoy live music upstairs by the bar on most Friday evenings. 
Mama D's (50 Union St., Tel. (207) 633-3464). A friendly coffee shop with breakfast and lunch service, Mama D's is full of character. Don't miss the blueberry cake!
China by the Sea (96 Townsend Ave). For many years I avoided eating Chinese on my visits to Boothbay, but once I tried China by the Sea, it made my must-visit list. The wonton soup is wonderful on a cold day.
Red Cup Coffeehouse is a friendly coffee shop that also serves food, wine and beer. It's located right in the center of the Harbor (29 Commercial St.)
Baker's Way (89 Townsend Ave) is an excellent spot for a budget breakfast (the breakfast sandwiches are excellent and their old fashioned donuts are wonderful) or for a quick or "to go" Vietnamese curry lunch.
Marcel's Submarine Shop (27A Townsend Ave.) is new to town and offers delicious salads and subs on their own homemade sub rolls. They also have a whiskey bar in the back!
Eventide Specialties (5 Boothbay House Hill Rd.) doesn't offer seating but they do serve wonderful homemade soups and a few other "to go" options.
Although the above restaurants are open year-round, some close one or two nights per week and/or on holidays, so it's always best to call ahead for the latest schedules. There are also a number of great spots in neighboring Damariscotta.
***
Aside from fine dining, what is there to do off season in the Boothbay region? Here are some of my favorite off season activities:
Photography Tours
Local photographer Robert Mitchell has graciously agreed to lead my guests on photography tours of the Boothbay Peninsula. Whether you are an experienced photographer, or just want to discover the best spots to take some nice shots to show everyone back at home, nothing compares to discovering (or re-discovering) a special place with a local guide. See my post for more details!
Work Out, Play Tennis, Go for a Swim or Just a Sauna… 
Visit the YMCA pool & gym! I am thrilled to tell you that we now have a cottage membership to the local YMCA, across from the high school (261 Townsend Ave, (207) 633-2855)!! I am used to Manhattan gyms, and this one is much It was recently renovated and is truly state-of-the-art.Check the YMCA website for the latest hours of operation, pool hours and event and class schedules. I highly recommend checking out the Y during your stay, whether you're a hard-core exerciser or you just want to take a dip in the warm-water pool then hit the sauna on a rainy day. If you need a tennis or racquetball racquet and balls, the front desk will lend them to you free of charge! The Y includes, among other facilities:
A lap pool and a warm-water therapy pool
A sauna
An indoor running track (with that fun, bouncy rubber surface)
Tennis courts (available at a very low hourly rate for members like us—$6-$8/hour)
Racquetball courts (free!)
Two rooms of cardio equipment
Two rooms of weight lifting equipment
A spinning an a cardio studio with about 10 classes per day, plus water aerobic classes (all classes are free with our membership!)
Community events
Kids' week-long summer camps—we get a reduced member rate! 
Free child watch (ages 3 months – 5 years) Mondays & Thursdays 8:45am – 11:15am (check that days/times haven't changed!) for parents using the Y (you can't leave the facilities!)
Yoga
Take a yoga class at Boothbay's amazing Crow Point Yoga, my favorite yoga studio of all time!
Cooking Classes
Take a group cooking class at Eventide, or organize a private cooking class.
Massage & Spa Treatments
Sea Glass Spa is a recent addition to the region. If you try it, please let me know what you think! You can also book a massage with Crow Point Yoga.
Winter Hiking & Snowshoeing
See the "Hiking & Walks" section here and the Camden and Freeport day trip itineraries below for ideas. There is one pair of snowshoes in Portside available for your use. If you need additional snowshoes, you can rent them on your way up Route 1 (just past the Bath bridge as you're heading north to Boothbay) at Bath Cycle & Ski:
115 Main St., US Route 1
Woolwich, ME 04579
1-800-BIKEMAN
1-207-442-7002
Some of my guests recently paid $50 to rent two pairs of snowshoes for 3 days.
Botanical Gardens
The Coastal Maine Botanical Gardens are open year-round and host frequent events (such as the holiday lights festival, Gardens Aglow). These 250 acres opened to the public in 2007 and are constantly expanding, with numerous gardens, waterfalls, stonework, sculptures, miles of woodland and waterfront trails, a visitor center, gift shop and café.  The gardens are now listed on TripAdvisor.com as the #1 attraction in the Boothbay Region. There may be no flowers in the winter, but the good new is that the gardens are free, aside from special events.
Day Trips and Driving Tours
Go for a Coffee or a Drink
Thistle Inn, McSeagulls and Boathouse Bistro (see above under Restaurants) are some of my favorite bars in town and they are open year round.
Go for coffee – there are dozens of places in the Harbor, but one of our favorites is Red Cup Coffee House (29 Commercial St.), especially when it's open mic nite! Take the Inner Harbor Loop walk and get coffee at Baker's Way (89 Townsend Ave, (207) 633-1119) or Mama D's (50 Union St., Tel. (207) 633-3464).
See a Movie
Harbor Theatre has a single-screen cinema open year-round. The Harbor Theatre is located at the junction of Routes 27 and 96, in the Meadow Mall (across from Hannaford's). Prices are $9 for adults and $6 for children 12 & under and seniors 62 & over.
You might also want to check Damariscotta's Lincoln Theater for movies and more!
Catch a Concert at the Opera House
The local Opera House has events all year long!
Festivals & Events
There are a number of town-wide and other festivals and events all year long. Check the Chamber of Commerce calendar for the latest!
Do Nothing! 
Back Bay Cottage is also the perfect place to just do nothing. Light up the gas stove, snuggle up and enjoy all our Maine books. Perhaps Barbara Ross's trilogy of Boothbay murder mysteries? We have tried to assemble a good lot to help you plan out your time here (the novels are in the twin room on the shelves!) We have an extensive collection of videos and DVDs, too, and 4 TVs. There is an activity basket for younger guests.
The town Library, just up Townsend Street to the left, maintains a Used Bookstore, which is chockablock full of great reads – and your purchases will benefit the Library. Sherman's, at the beginning of Commercial Street, has a great selection of books upstairs. If you still  manage to run out of reading material, the YMCA has a book swap shelf (in the Howard Gordon Lounge overlooking the racquetball courts).