I was in Boothbay Harbor in mid-October and as usual (thankfully), not too much has changed! But there are always a few new happenings to mention....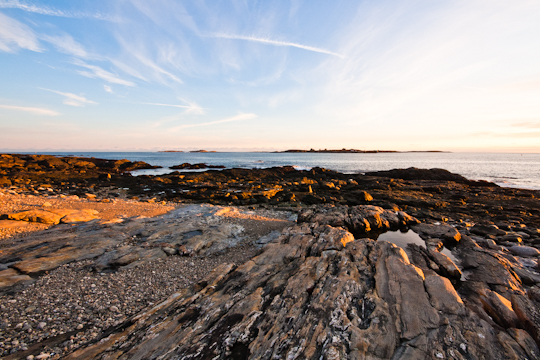 Sunset at Ocean Point
The new deli at 12 Oak St., Capers, is in full swing. They make everything from scratch: sandwiches, salads, desserts, etc. They do catering as well, and one half of the store is devoted to selling beer, wine and other more gourmet products. There are several tables for a pleasant eat-in experience, or you can order a picnic lunch to go. I tried the daily special (smoked turkey sandwich) and pasta salad and both were excellent.
The Boat House Bistro is now open year-round, Thursday to Monday! They have a "limited" menu, but it's really not that limited. Still plenty of choices, including 10 or 12 of their famous tapas. My favorite tapas are the Pistachio Crusted Scallops, the Maine Maple Scallops (with blueberry sauce) and the Lobster and Scallion Triangles.
I finally made it to Le Garage in Wiscasset. They have a beautiful all-season sun deck overlooking the Sheepscot River and quite an extensive menu. And they are open year-round! My haddock sandwich was excellent.
Of course other old favorites like the Thistle Inn, McSeagulls, Mama D's, Ebb Tide, China by the Sea, Bridge Street Cafe, Baker's Way and King Eider's Pub (Damariscotta) are open year-round as well.
Don't forget the Harbor Lights Festival will be held this year on Saturday, December 6th.
PORTSIDE IS STILL AVAILABLE FOR RENT OVER THANKSGIVING, THE HARBOR LIGHTS FESTIVAL AND CHRISTMAS 2014. E-MAIL ME AT BBCPORTSIDE@GMAIL.COM TO RESERVE AT A 10% DISCOUNT!