I am thrilled to tell you that we now have a cottage membership to the local YMCA, across from the high school (261 Townsend Ave, (207) 633-2855)!! I am used to Manhattan gyms, and this one is much better. It was recently renovated and is truly state-of-the-art.
The Y includes, among other facilities:
A lap pool and a warm-water therapy pool
A sauna
An indoor running track (with that fun, bouncy rubber surface)
Tennis courts (available at a very low hourly rate for members like us—$6-$8/hour)
Racquetball and squash courts (free!)
Two rooms of cardio equipment
Two rooms of weight lifting equipment
A spinning an a cardio studio with about 10 classes per day (pilates, yoga, kickboxing, crossfit, weight training just to name a few…), plus water aerobic classes. Classes are all free with our membership!
Community events
Kids' week-long summer camps—we get a reduced member rate! Check the website for details as you'll need to reserve in advance.
Free child watch (ages 3 months – 5 years) Mondays & Thursdays 8:45am – 11:15am (check that days/times haven't changed!) for parents using the Y (you can't leave the facilities!)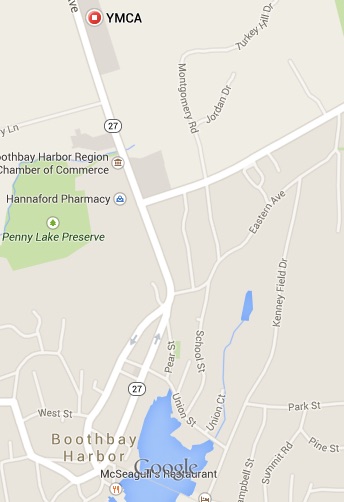 Check the YMCA website for the latest hours of operation, pool hours and event and class schedules.
I highly recommend checking out the Y during your stay, whether you're a hard-core exerciser or you just want to take a dip in the warm-water pool then hit the sauna on a rainy day. The Y is a true community center that serves all generations in Boothbay. Whether you're super fit or have never stepped foot in a gym in your life, you'll feel like you belong here!
Again, it's a cottage membership, so you're just as full-fledged members as I am when you're staying at Portside. Up to five guests can go at a time (and I would be shocked if they hassled you over six arriving at once.) There will be all the info you need in the guest info booklet in the cottage, but what is important to know in advance if you'd like to take advantage of the amazing pools, sauna and other facilities any time of year, is bring your bathing suits and workout clothes! And bring your tennis or racquetball/squash racquets if you'd like to use the courts (I just have one tennis racquet here that you can use.) I am leaving a couple of gym lockers at the house for your use.
Enjoy!! And for those of you who visit the region often and are looking for a way to give back to the community, you may consider making a tax deductible gift to the YMCA, which offers so much to this community.