The 4th Annual Claw Down will take place at the Ocean Point Marina on Thursday evening, September 17th, 2015. Over a dozen local chefs will compete for the Judges' Choice and People's Choice awards for the best lobster "bites". That is, who makes the best dish with lobster as the key ingredient.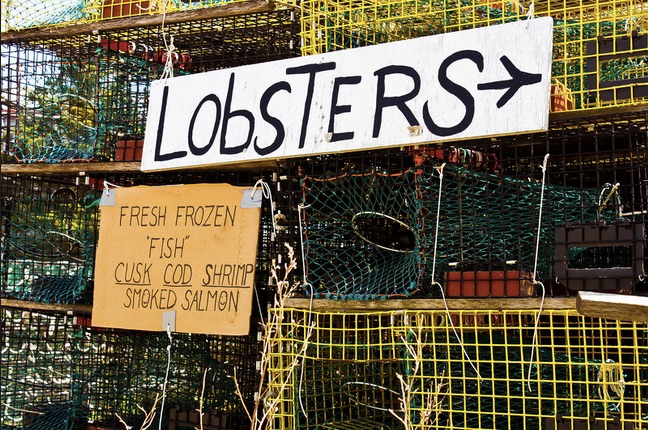 In 2013, Tugboat Inn's Executive Chef Mike Ham won the Judges' Choice award for his Lobster Cannoli--Herbed Cream Cheese Stuffed Lobster Cannoli with Blueberry Crème Anglaise. Executive Chef Jason Chamness of Robinson's Wharf was awarded the People's Choice Award for his Lobster Beignet--lobster, mascarpone cheese, and remoulade drizzle.
In 2014, Rocktide Inn Executive Chef Dwayne Whitelocke won the Judges' Choice award for his popover with lobster, a blueberry cognac jam, mousseline sauce, and three cheese crumble. The World is Mine Oyster Executive Chef Steve Richards won the People's Choice Award with his crispy fried lobster gruyere mac 'n' cheese with truffled tomato concasse and lobster Choron sauce.
These aren't dishes you'd want to miss, are they?
Here is last year's write-up in the Boothbay Register.
Each of the prior years has sold out, as it is always a very popular event. Tickets will go on sale soon. You can also call the Chamber of Commerce now at 207-633-2353 to put your name on a pre-sale list.
Here's the best news... Portside at Back Bay Cottage is still available for rent that week of September 12th - 19th! In fact, it's the only week still available between now and October 14th. So claim the week of the Claw Down now!
To stay up to date on the action, you can follow the Claw Down's Facebook page here.
4th Annual Claw Down
Thursday, September 17, 2015 6:00 PM - 8:30 PM
Ocean Point Marina & Marine Store
216 Ocean Point Road
East Boothbay, ME 04544