Waves
This week, I finally tried Waves, where the old favorite Ebb Tide used to be. It opened May 15th of 2015, so it may not qualify as "new" but at least I made it in before their 1st anniversary!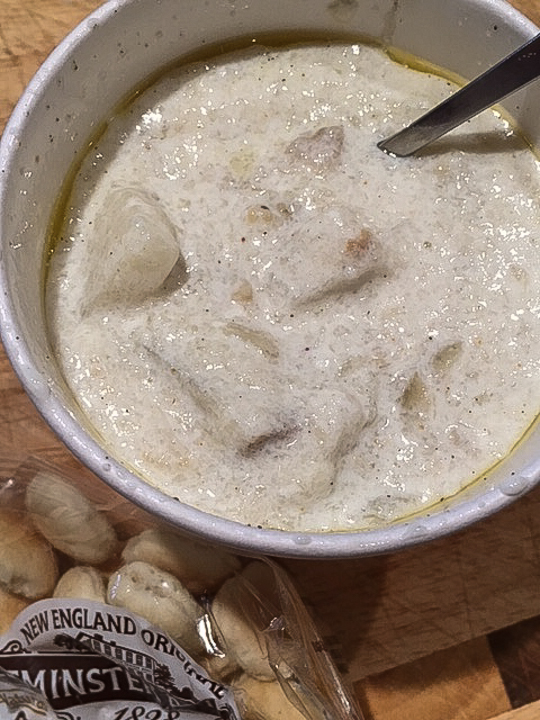 My clam chowder from Waves
Waves owners, Ian Ronan and Jenny Chan, made the decision to keep the basic interior of Ebb Tide (the wooden benches and tables) but gave it a slight facelift. I don't know what I was expecting in terms of the food but I was very pleasantly surprised. My two friends and I thoroughly enjoyed our meals. Portions were very generous, ingredients fresh and the dishes went above and beyond. We were very happy with our quesadilla, burger and buffalo chicken sandwich.
As we were paying the bill, one friend recalled that the clam chowder at Waves is supposed to be quite good. So I decided to grab a cup to go, which I reheated for supper. It was in fact delicious. Not too think but not too thick either. Ebb Tide may have had the best chowder in town in its day; Waves may well have kept that tradition going. I will definitely return to Waves often.
Waves is currently open 7am - 3pm Wednesday through Sunday, but they may expand their hours for the summer season.
What else is new in the Harbor for 2016?
Andrews Harborside, just a few steps from Back Bay Cottage, has a new owner. I'm looking forward to trying the new incarnation--Harbor Grill?
The country club has three dining options: a steak house, a sports bar & grill and an outdoor café by the 9th hole. Please let me know if you try any of them!
The Carriage House on the Ocean Point road in East Boothbay is finally coming back this year after a long, long rest! I am very excited to try this new farm-to-table restaurant when it reopens in mid to late June. You can read more about the new venture here.
Have you tried any other new restaurants or new chefs in the region? Please let me know!