Portland, Maine has earned a reputation over the last decade or so of being one of if not the foodie capital of New England. I've collected quite a list of restaurants to try in and around Portland and I'm very slowly making a dent in that list. Still a long way to go, but here are some of my favorites so far: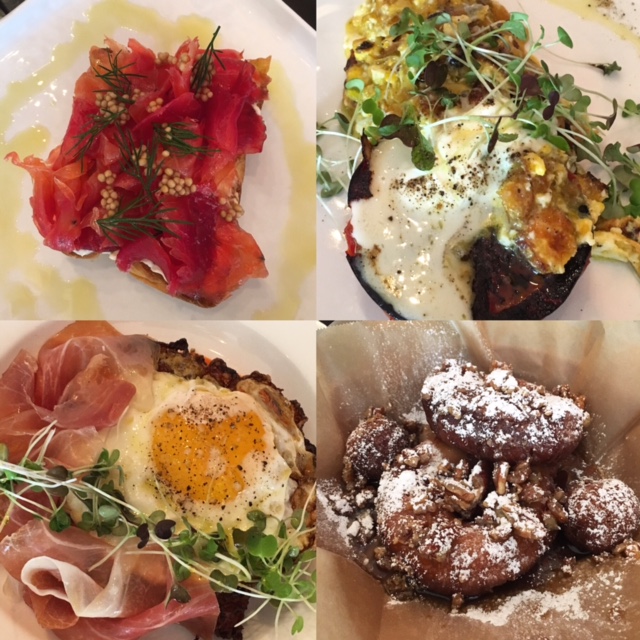 Brunch at Sur Lie: lox toast, broken eggs, hash and apple cider donuts
Known for its beautiful oyster bar, but I had the lobster roll with brown butter and the lobster stew. Both were incredible. They warn you the lobster roll is small--not much lobster for the pretty price of $15. But it's still totally worth it. The lobster stew is not your typical bisque--a bit of green curry and coconut make for a unique taste.
Fore Street is one of the best known restaurants in Portland, having received numerous awards since it opened 20 years ago. Fore Street offers a mix of meats, poultry and seafood. Everything is fresh and delicious. It's not cheap but a great value for what it is.
The sister restaurant of Fore Street, a bit more traditional and more intimate setting. Street & Co. is known for its seafood. I haven't been in years, but I still think about the Lobster Diavolo (for two)!
This little coffee shop/bakery is in a 1960s renovated gas station turned laundromat. The baked goods are innovative and delicious.
I was picking friends up from the Portland Jetport last week at 1am (eek!) and decided to try out a late night food spot while down there. With the help of this article, I picked Nosh and was not disappointed. I had the Original Crisy Cod sandwich with sweet grilled onions and a side of bacon dust fries. I wish someone had told me that was enough food for 3 people! A great twist to turn ordinary dishes into something a bit special.
I just tried Sur Lie for the first time last week, for Sunday brunch. I am a big fan! The plates are meant to be shared. The portions aren't so big, but each dish was packed with such taste that we didn't need any more. OK, well we also finished it off with the apple cider donuts that are to die for.
A great space with delicious and reasonably-priced options. I ate lunch there and tried the lobster stew (wonderful--a touch of Asian spices perhaps?), the kale & quinoa & goat cheese salad and also the gourmet grilled cheese. For just $8, I had the largest and perhaps yummiest grilled cheese I've tasted!
This one's actually in Yarmouth, between Portland and Freeport. The space is beautiful and lofty and the menu has a great mix of seafood and other dishes ranging from pub to a bit fancier fare. I had a salmon wrap special that was excellent.
 ***
Note that most of the restaurants above require reservations, some far in advance (Fore Street, Street & Co., for example, though they do save some tables for walk-ins). Some are also only open for dinner, so check before showing up!