On my last trip to Maine, I finally did something I had been wanting to do for a long time. I went on a haunted tour of Boothbay Harbor.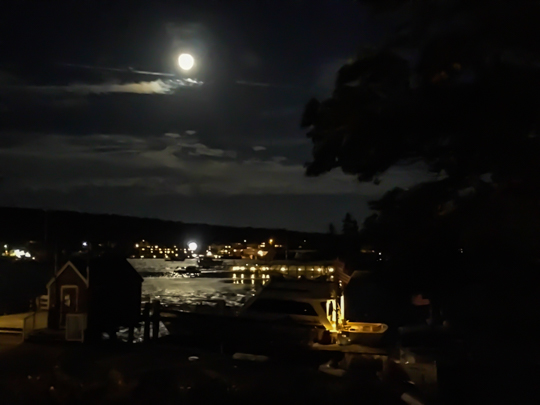 I didn't know what to expect, how hokey this was going to be. But I felt the Red Cloak Haunted History Tour got the balance right. Although the guide is upfront about the fuzzy line between local history and local folklore in many of the stories, the tour does give you a sense of the history of the town.
We met by the Memorial Library, where we heard the first of the evening's stories--about the suspicious drowning of an out-of-town visitor back in the 1930s. The tour lasts 70 - 90 minutes and takes you to a number of spots right in the very center of the harbor, each with their own story. We ended at the Opera House, which we learned may be one of the most haunted buildings in all of Maine!
You can find our more on the tours, including schedules and information on reservations, on Red Cloak's website or on their Facebook page. Note that Red Cloak also offers similar tours in other nearby towns.
Whether or not you believe in ghosts and ghost stories, this tour is a fun way to spend an evening in Boothbay Harbor. You can also read the guides' book on Ghosts of the Boothbay Region, available at local Maine book shops or via Amazon.