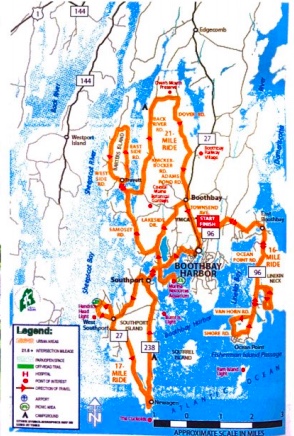 Cycling is not the first outdoor activity I think of when I think of Boothbay. The roads are narrow and windy and there are no designated bike lanes.
Kayaking, paddle boarding and walking or snowshoeing the land trust trails are my go-to sports if I'm not inside at the YMCA or Crow Point Yoga.
But now, the Boothbay Register's Summertime magazine has a map showing three measured cycling routes around the peninsula.
See the full article here. The map indicates three routes: a 16-mile, a 17-mile and a 21-mile. Of course, these routes do share the road with cars….
But I'll be out trying them (very carefully) soon!